Introduced at the 1981 National Order of the Arrow Conference, the Founder's Award was created to honor and recognize those Arrowmen who have given outstanding service to their lodge. The award is reserved for an Arrowmen who demonstrates to fellow Arrowmen that he or she memorializes in his or her everyday life the spirit of achievement as described by founder E. Urner Goodman and co-founder Carroll A. Edson.
The Award is a handsome bronze medallion bearing the likenesses of E. Urner Goodman and co-founder Carroll A. Edson, with a wooden base and brass plate suitable for engraving. Also available is a special Founder's Award arrow ribbon, with a gold-colored arrow suspended from a red ribbon.
Lodges may petition the national Order of the Arrow Committee to present up to four awards annually, based on lodge membership. If the lodge presents more than one award, one must be to a youth under the age of 21.
FOUNDER'S AWARD RECIPIENTS
1996
Carl
Snyder
2008
Charles
Stellmacher
2020
Peter
Selfors
1997
Brian
Sutilla
2009
Tom
Sisson
2020
Nick
Ciesinski
1997
Matt
Vick
2010
Brad
Singer
2021
Blake
Stephens
1998
Matt
Clarke
2011
Mitchell
Keim
2021
Emily
Singer
1998
Lucien
VanElsen
2011
Ronald
Singer
2022
Collin
Welke
1999
Gene
Burke, M.D.
2012
Ryan
Blackmore
2022
Tim
Welke
1999
Brian
Murray
2012
Greg
Nebel
2000
Bob
Adams
2013
John
Kuderer
2000
Andy
Koch
2013
Rick
Ryan
2001
Nick
Grasimowicz
2015
Aaron
Kuenstler
2001
Mike
Garvey
2015
Mitch
Muffler
2002
James P.
Murray
2016
Max
Czechowski
2003
James J.
Beres
2016
Max
Czechowski
2003
Alex
Carus
2016
Curt
Krohn
2004
Mark
Jansen
2017
Tyler
Scherer
2006
John
Rauenbeuhler
2017
Bruce
Prange
2006
Ron
Liebl
2018
Theo
Johnson
2007
Jon
Schwab
2018
Michael
Zindars
2007
Kathlene
Sisson
2019
Zach
Landquist
2008
Andy
Matz
2019
Andrew
DeLuka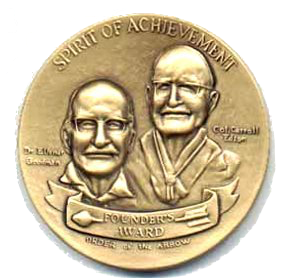 Fox Award
Wag-O-Shag's Fox Award is awarded to recognize those lodge members for their continued selfless leadership and service. This award is not earned, it is something you are recognized with by your fellow Arrowmen. 
The criteria for nomination is as follows:
Be a dues-paying member in the lodge for the last two years (prior to nomination).

Attend three Wag-O-Shag events

Contribute to the overall success of the lodge (include the reason why in the nomination).
Greg Nebel
Tom Sisson
Mark Rzeznik
2007 Rick Ryan
2007 Val Peterson
2007 Peter Lokken
2007 Will Bonk
2007 Rick Lokken
2007 Bob Quaddracci
2007 Dennis Gignac
2007 Nathan Bognar
2007 Nik Nelson
2007 Bill Becker
2007 Otto Merz
2007 Jim Shuldenberg
2007 Luke Voelz
2007 Mike Zindars
2007 Marty Kowalski
2007 Tony Dobner
2007 Dave Pscheid
2007 Chuck Kallinger
2008 Joey Gignac
2008 Jake Kulas
2008 Ron Hahn
2008 Chris Hahn
2008 James Felton
2008 John Kuderer
2008 Ryan Mack
2008 Ryan Blackmore
2008 Thomas Dobner
2008 Mike Ellis
2008 Mick Hurlbut
2009 Tom Hocculi
2009 Peggy Merz
2009 Sue Schultz
2009 Tom Schamens
2009 Kevin Robertson
2009 Tommy Hagen
2009 Chris Heyrman
2009 Jean Guzzetta
2009 Ben Siegman
2009 Zak Emberts
2009 Jon Kuderer
2010 Brad Singer
2010 Ron Singer
2010 Marshall Angst
2010 Mitch Keim
2010 Mike Draeger
2010 Kyle Meidenbauer
2010 Joe Rauenbuehler
2010 Jeff Shober
2011 Dexter Blumberg
2011 Elaine Garvey
2011 Ian Hurlbut
2011 Matt Keim
2011 Levi Krohn
2011 Jacob Rzeznik
2011 Robert Patterson
2011 Rick Bachman
2011 Bruce Boll
2011 Mitch Muffler
2012 Mitch Muffler
2012 Jordan Heller
2012 Aaron Kuenstler
2012 Sam Danner
2012 Mark Mutza
2012 Mike Smaglick
2012 Connor Main
2012 Kyle Gamauf
2012 Conrad Meidenbauer
2012 Curt Krohn
2012 Billy Thanholt
2012 Tim Abrahamson
2012 Colin Tetkowski
2013 Max Czechowski
2013 Tommy Durnil
2013 Calvin Rens
2013 Ryan Sheard
2013 Emily Singer
2014 Dena Jarog
2014 Rich Ward
2014 Zachary Long
2014 Chad DeLuka
2014 Gareth Hestetune
2014 Nate Kuenstler
2014 Nick Schmudlach
2014 Alex Steinhaus
2014 Jeremy DaRonco
2014 Nick Rizzo
2014 Andrew DeLuka
2014 Chas Boyer
2015 Quinn Siegman
2015 Theo Johnson
2015 Jeff Buth
2015 Ron Kuenstler
2015 Dean Owen
2016 Mark Czechowski
2016 Tyler Scherer
2016 John Ward
2016 Colin Hall
2016 Andrew Ward
2016 Ella Ozier
2016 Brian Uhan
2016 Rob Landquist
2016 Jeff Schmid
2019 Peter Selfors
2019 Rich Kettle
2019 Sam Matheny
2019 Collin Welke
2020 Zach Landquist
2020 Joey Snella
2020 Colin Hall
2020 Henry DeLuka
2020 Logan Woessner
2020 Joe Maynard
2021 Blake Stephens
2021 Liam Hughes
2021 Daniel Tahtinen
2021 Jonathan Roth
2021 Connor McKenzie
2021 Drew Dahlgren
2021 Jacob Rose
2021 Penny Tahtinen
2022 Josh Noonan
2022 Erin Rosenthal
2022 Ethan Welke
2022 Nickolas Giovan
2022 Hayden Fry
2022 Jim Laven