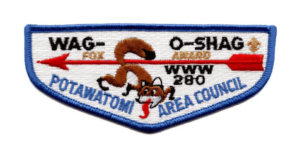 The Fox Award is Wag-O-Shag's most prestigious award. It recognizes arrowmen for exceptional leadership in service through the Lodge.
Eligibility Criteria:
-Be a paid member of the lodge for at least 2 years
-Attend at least 3 Wag-O-Shag events
- Contribute to the success of the lodge (include reason(s) why in nomination)
If you would like to submit a nomination for an arrowman who is worthy and eligible, please fill out the following form. It can either be filled by online or by paper which can be mailed to or dropped off at the Council Office.
2023 Nominations are Closed. Check back next year for 2024 Nominations!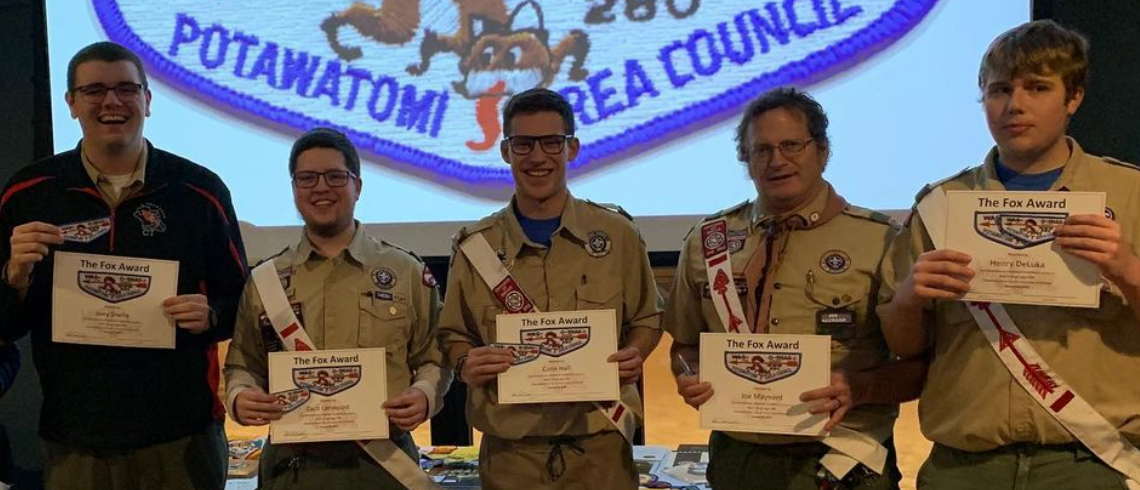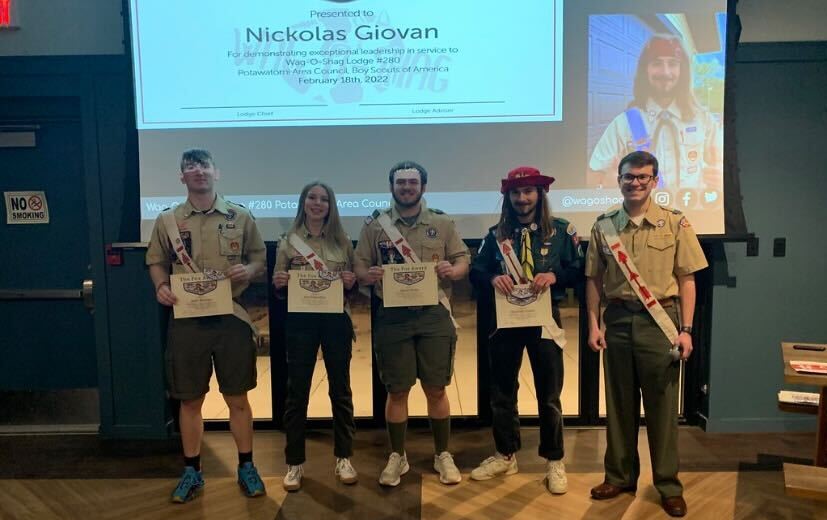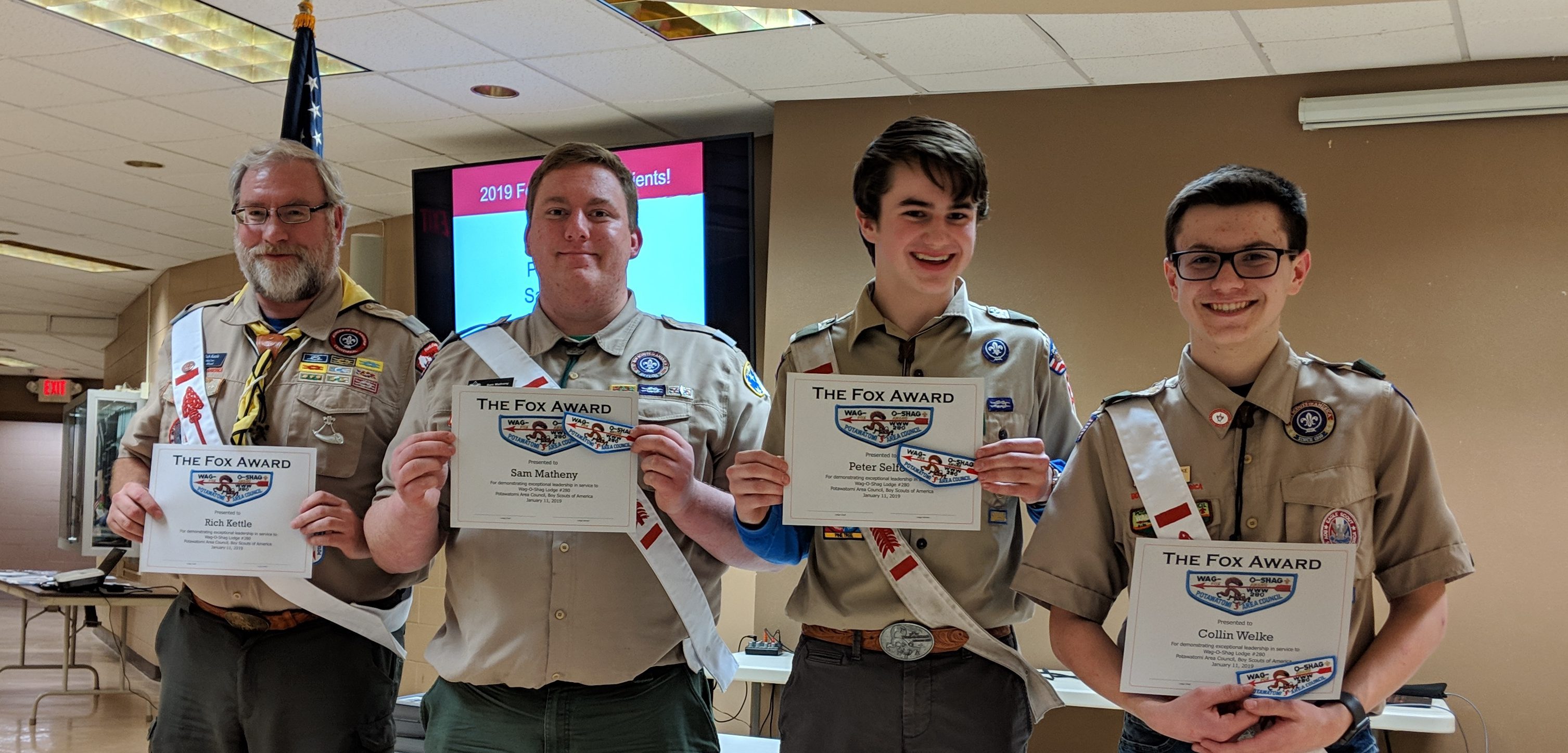 Fox Award Recipients
| | | | | | | | | |
| --- | --- | --- | --- | --- | --- | --- | --- | --- |
| 2007 | Rick | Ryan | 2011 | Ian | Hurlbut | 2016 | Rob | Landquist |
| 2007 | Val | Peterson | 2011 | Matt | Keim | 2016 | Jeff | Schmid |
| 2007 | Peter | Lokken | 2011 | Levi | Krohn | 2019 | Peter | Selfors |
| 2007 | Will | Bonk | 2011 | Jacob | Rzeznik | 2019 | Rich | Kettle |
| 2007 | Rick | Lokken | 2011 | Robert | Patterson | 2019 | Sam | Matheny |
| 2007 | Bob | Quaddracci | 2011 | Rick | Bachman | 2019 | Collin | Welke |
| 2007 | Dennis | Gignac | 2011 | Bruce | Boll | 2020 | Logan | Woesner |
| 2007 | Nathan | Bognar | 2011 | Mitch | Muffler | 2020 | Henry | DeLuka |
| 2007 | Nik | Nelson | 2012 | Mitch | Muffler | 2020 | Zach | Landquist |
| 2007 | Bill | Becker | 2012 | Jordan | Heller | 2020 | Joey | Snella |
| 2007 | Otto | Merz | 2012 | Aaron | Kuenstler | 2020 | Jim | Greicar |
| 2007 | Jim | Shuldenberg | 2012 | Sam | Danner | 2020 | Joe | Maynard |
| 2007 | Luke | Voelz | 2012 | Mark | Mutza | 2021 | Blake | Stephens |
| 2007 | Mike | Zindars | 2012 | Mike | Smaglick | 2021 | Liam | Hughes |
| 2007 | Marty | Kowalski | 2012 | Connor | Main | 2021 | Daniel | Tahtinen |
| 2007 | Tony | Dobner | 2012 | Kyle | Gamauf | 2021 | Jonathan | Roth |
| 2007 | Dave | Pscheid | 2012 | Conrad | Meidenbauer | 2021 | Connor | McKenzie |
| 2007 | Chuck | Kallinger | 2012 | Curt | Krohn | 2021 | Drew | Dahlgren |
| 2008 | Joey | Gignac | 2012 | Billy | Thanholt | 2021 | Jacob | Rose |
| 2008 | Jake | Kulas | 2012 | Tim | Abrahamson | 2021 | Penny | Tahtinen |
| 2008 | Ron | Hahn | 2012 | Colin | Tetkowski | 2022 | Josh | Noonan |
| 2008 | Chris | Hahn | 2013 | Max | Czechowski | 2022 | Erin | Rosenthal |
| 2008 | James | Felton | 2013 | Tommy | Durnil | 2022 | Ethan | Welke |
| 2008 | John | Kuderer | 2013 | Calvin | Rens | 2022 | Nickolas | Giovan |
| 2008 | Ryan | Mack | 2013 | Ryan | Sheard | 2022 | Hayden | Fry |
| 2008 | Ryan | Blackmore | 2013 | Emily | Singer | 2022 | Jim | Laven |
| 2008 | Thomas | Dobner | 2014 | Dena | Jarog | 2023 | John | Aebly |
| 2008 | Mike | Ellis | 2014 | Rich | Ward | 2023 | James | Noonan V |
| 2008 | Mick | Hurlbut | 2014 | Zachary | Long | 2023 | Scott | Durian |
| 2009 | Tom | Hocculi | 2014 | Chad | DeLuka | 2023 | Nate | Schmidt |
| 2009 | Peggy | Merz | 2014 | Gareth | Hestetune | 2023 | Kayden | Wilson |
| 2009 | Sue | Schultz | 2014 | Nate | Kuenstler | 2023 | James | Kieso Sr. |
| 2009 | Tom | Schamens | 2014 | Nick | Schmudlach | 2023 | Rae | Rose |
| 2009 | Kevin | Robertson | 2014 | Alex | Steinhaus | 2023 | Jack | Nagai |
| 2009 | Tommy | Hagen | 2014 | Jeremy | DaRonco | | | |
| 2009 | Chris | Heyrman | 2014 | Nick | Rizzo | | | |
| 2009 | Jean | Guzzetta | 2014 | Andrew | DeLuka | | | |
| 2009 | Ben | Siegman | 2014 | Chas | Boyer | | | |
| 2009 | Zak | Emberts | 2015 | Quinn | Siegman | | | |
| 2009 | Jon | Kuderer | 2015 | Theo | Johnson | | | |
| 2010 | Brad | Singer | 2015 | Jeff | Buth | | | |
| 2010 | Ron | Singer | 2015 | Ron | Kuenstler | | | |
| 2010 | Marshall | Angst | 2015 | Dean | Owen | | | |
| 2010 | Mitch | Keim | 2016 | Mark | Czechowski | | | |
| 2010 | Mike | Draeger | 2016 | Tyler | Scherer | | | |
| 2010 | Kyle | Meidenbauer | 2016 | John | Ward | | | |
| 2010 | Joe | Rauenbuehler | 2016 | Colin | Hall | | | |
| 2010 | Jeff | Shober | 2016 | Andrew | Ward | | | |
| 2011 | Dexter | Blumberg | 2016 | Ella | Ozier | | | |
| 2011 | Elaine | Garvey | 2016 | Brian | Uhan | | | |