The Wag-O-Shag Camping Award is a new award for all types of units to earn! One of the OA's responsibilities is to promote camping to units. So, this award focuses on three things: camping, our own Camp Long Lake, and getting units' ordeal candidates to join the Order of the Arrow by completing their ordeal. The award given is the nifty bumper sticker above that can be put onto your unit's trailer or anything your unit wants!
Eligibility Requirements
• Send a unit contingent to Camp Long Lake during the 2022 Summer Camp season.
• Hold at least 4 other unit camping outings during the 2022 calendar year.
• Have at least 80% of the unit's Ordeal candidates complete their Ordeal in 2022 (only required if the unit had any ordeal candidates during the calendar year).
To submit an application (intended for the Unit Leader or designee): Click HERE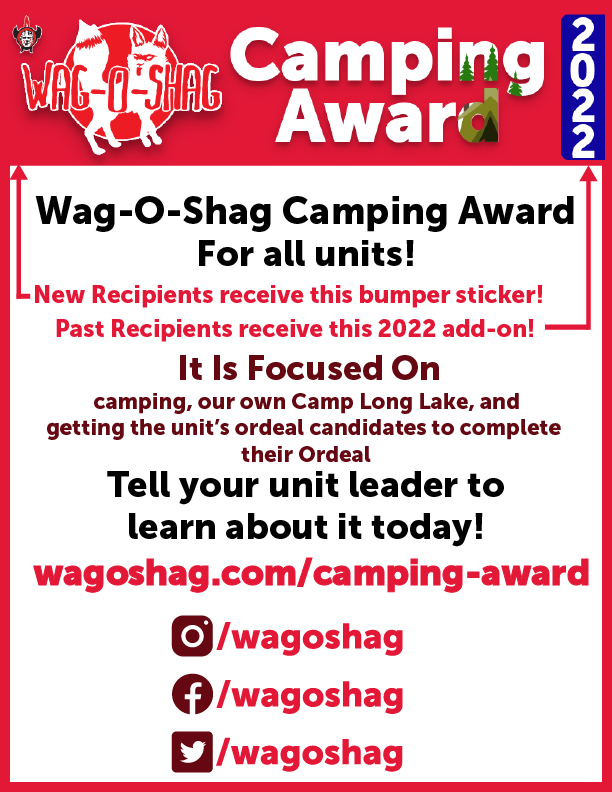 The 2022 Camping Award Recipients have been announced! Check out the table below with the history of all our Camping Award Recipients
CAMPING AWARD RECIPIENTS
| | | |
| --- | --- | --- |
| 2021 | Troop | 321 |
| 2021 | Troop | 4B |
| 2021 | Troop | 183 |
| 2021 | Troop | 159G |
| 2021 | Troop | 99 |
| 2021 | Troop | 20 |
| 2021 | Troop | 95 |
| 2021 | Troop | 175G |
| 2022 | Troop | 183 |
| 2022 | Troop | 68 |
| 2022 | Troop | 4B |
| 2022 | Troop | 43 |
| 2022 | Troop | 99 |
| 2022 | Troop | 20 |
| 2022 | Troop | 229 |
| 2022 | Troop | 13 |
| 2022 | Troop | 13 |
| 2022 | Troop | 156B |
| 2022 | Troop | 95 |
| 2022 | Troop | 175G |